How to Create Mobile Friendly Emails
Email Marketing
1 month ago
Email Marketing Tips for Creating Mobile Friendly Email Campaigns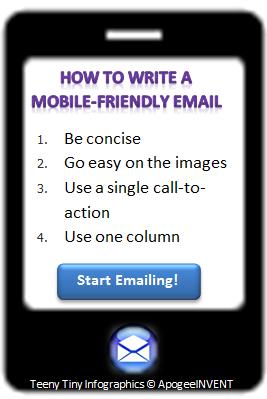 Are you an email marketer, or just a small business that sends out emails? It is important to ensure your email marketing campaign is mobile-friendly.
On one hand, there's the report that says
41 percent of all commercial email is opened on mobile devices
-- a number that's expected to surpass PC/desktop opens by the end of the year. On the other hand, there's the new 2013 Email Marketing Benchmark Report from Marketing Sherpa that says more than half of email marketers aren't designing their emails with mobile devices in mind.
A poor mobile experience leads
30% of consumers to unsubscribe
. Since nearly half of your subscribers are likely viewing your emails from a mobile device, doesn't it make sense to consider what factors make a mobile-friendly email?
5 Ways to Make Mobile Friendly Emails
1. Be concise. It is more difficult to read text, no matter what the size, on a mobile device. Keeping your message short and to the point will make readers more likely to read through to the end.
2. Go easy on the images. Images take up a lot of space on the small screen of a mobile device. They are also more likely to not be viewed, or to not render properly. By including simple and only essential images, it will make your message easier to read. It will also help with keeping the message concise.
3. Use a single call-to-action. Give your readers a simple, single action to take. Readers from a mobile device will likely only click on one link in your email because mobile browsers tend to be slower and more difficult to navigate through multiple windows. By including one large call to action, like a button, you are increasing the probability of a click-through.
4. Use a single column. By keeping your email to a single column, you are making it easier for mobile devices to show the entire message. Readers won't have to scroll over and up and down. The easier a message is to read, the more likely your subscribers will read it, share it, and stay subscribed.
5. Think big. Big fonts, that is. A large, easy-to-read font type is important to making your email friendly to mobile readers. Also consider color and backgrounds when designing your mobile emails.
These 5 tips can apply to your regular email marketing efforts. Not sure if your subscribers are reading from their mobile devices? It is better to err on the side of caution. Your non-mobile readers will appreciate brief, pointed messages with a direct call to action.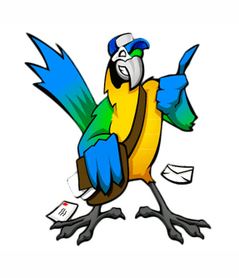 Want to try creating a mobile-friendly email? You can do it right now for free by visiting
Postal Parrot
, a simple and affordable email marketing service.
Try it now!
March Madness 2013 and the Internet
Internet
2 months ago
The NCAA tournament series known as March Madness is now trending. #NCAA #MarchMadness
It is the most exciting time of the year for college basketball - The tournament fondly and aptly called March Madness. And if you are a fan of March Madness, it is very likely that the Internet has played a role in your bracket-building fun.
From online brackets to tracking the games in real time through sites like Google, the Internet has changed how we enjoy March Madness.
Ways to enjoy March Madness online:
Online brackets: Now your brackets are easier and frankly more fun to fill out. Numerous sites offer great features for free (or a small price). Some of the features include interacting with friends, winning prizes for having the highest score, and getting tips and other info. There is software to create the perfect office pool for the tourney so no needs to worry about the pesky details of tracking and scoring who is winning - its all done for you. So forget the pen and paper and log online to create a winning bracket. Here are some of the best websites for creating your bracket from Digital Trends.
Tracking the score online: Not near a TV during your team's game time? Not a problem. If you have a computer, or even your phone, a simple Google search will give you the score in real time. You can even check out the latest matchups and brackets, embedded by Google into search results.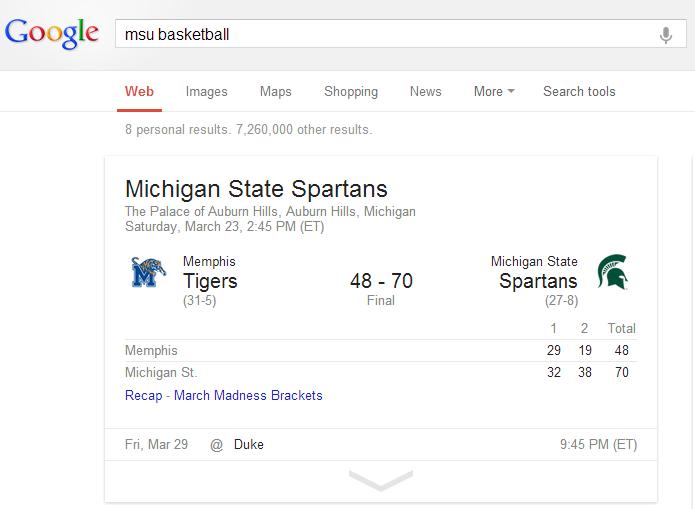 Mobile Apps: This is the year of Mobile. So as we would expect, March Madness has generated numerous ways to enjoy the tournament from your mobile device. There are a slew of Apps that let you do anything from create a bracket (Pocket Bracket) to watch your team live (March Madness Live App).
Social Media: Social Networking sites let you get social with your madness. You can tweet a trending hashtag on Twitter like #SweetSixteen, or follow @MarchMadness. Like the March Madness Facebook Page for updates and articles, or put the Google+ page in one of your circles. It also makes it easy to connect with your favorite team, as many college sports teams have a social media presence. No matter what your preferred network, there is bound to be a way to interact with others and enjoy the March Madness from the comfort of your office, home, or dorm room.
Know of other ways the Internet has changed March Madness for the masses? Share it in the comments below!
Lindsey Winsemius is the Vice President of Communications for ApogeeINVENT, and is the social media voice and blogger for the company. She is also a huge fan of March Madness (Go Michigan State Spartans!) Follow her on Twitter or connect with her on Google+
Email Marketing Resolutions for 2013
Email Marketing
4 months ago
Email Marketing in 2013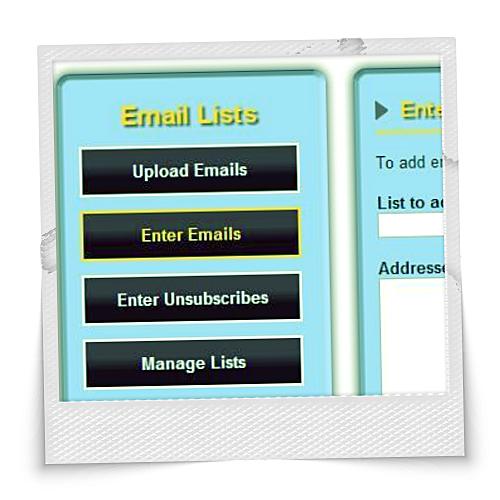 Make 2013 your best year ever for email marketing. From sending simple newsletters to utilizing massive automated email campaigns, now is the time to really connect with your audience.
Take advantage of the ability to integrate social media into your email marketing, as well as having great reporting tools to determine the success of your campaigns. Look at new marketing channels as increased opportunities to broadcast your message, not as detriments to email marketing.
Be sure to display consistent marketing collateral across all channels. The more your message matches up, the more likely people are to listen and trust it.
Here are just a few resolutions all email marketers should make in 2013 to make the most of their marketing campaigns.
1. Don't spam. Spam is typically defined as unsolicited email, but many email recipients will feel spammed if you send them too many emails, even if they signed up to receive them. What is the perfect amount of email to send to your lists? This will depend on the type of email and who you are sending them to, but many companies have found that fewer emails can lead to higher click-through rates and lower unsubscribe rates. For example, a weekly email would be less intrusive than daily emails. You can always make daily emails an optional feature.
2. Create better email lists. This means building lists with people who have opted in to your emails and are more likely to click through them. How can you build lists that are more likely to be clicked on? 1) Be sure your email sign up is prominent on your website and social sites, 2) Segment your email lists and create more targeted emails, and 3) If you choose to purchase leads, choose your lead provider carefully and don't send too many emails to the list you purchase.
3. Create better emails. Whether you are sending coupons, information, or a company newsletter, try to make the content interesting, brief, and arranged in an appealing format. Images should all include alt tags, because many email providers (like Gmail) will not automatically display images but will show the alternative text.
4. Keep mobile users in mind. More and more people are checking their email from phones or other mobile devices. Be sure you design your emails with these users in mind. Keep the emails simple and limit the images. Make sure there is plenty of white space, particularly around items you want people to click on.
5. Stay connected. Avoid letting too much time lapse between emails. The whole idea of email marketing is to create a connection with your consumers and then continually remind them you are there. Even sending a simple monthly newsletter is better than letting many months lapse without any communication at all. You should also use your emails to encourage further connection, through your social media accounts or your blog, for example. Each point of connection is one more place you will remind them of your presence, and make it easier for them to share your business or products with their friends.
Email marketing is affordable and has a high ROI. Isn't it time you made the most of it?

Have you tried our simple and affordable email marketing system, Postal Parrot? We'd love to know what you think! Please share your comments below, or visit
www.postalparrot.com
to try it out for free!
2013 Website Resolutions
Website
5 months ago
2013 New Year's Resolutions for Website Owners
Do you make yearly resolutions – Eat healthier, exercise more, try new things, be nicer to your coworkers? If you own or manage a website, here are several resolutions that should be part of your 2013 list.

1. Blog more.
Websites that have an active blog get more traffic and make more sales. It seems like an affordable and obvious way to improve the performance of your website, but there are many businesses that aren't taking advantage of this marketing technique. Just a simple blog post every other week could build traffic, and increase the ROI of your website. Be sure to
follow these 7 simple blog tips
to make the most of your blogging time.
2. Get more MOBILE.
This is the year that experts predict mobile internet use will surpass internet access from computers. This is already true for India. Make sure your website is accessible to mobile web users, displays properly on mobile devices of varying sizes, and optimize it for mobile searches. How can you do this?
Download our whitepaper How to Get Mobile Friendly
to find out the best ways to make sure your website is ready for the mobile revolution of 2013.
3. Get connected through social media. Fad or not, social media is still huge. Almost every single 18 – 24 year-old in the US uses social media, and usage is increasing in all other age ranges. It is very likely that your audience is using social media, so shouldn't you be active there too? Pick the top social networks that fit your business and start connecting. Then make sure your website is connected too, through widgets or icons, so people can more easily make the connections. 2013 is going to be all about connecting, so if you haven't already, get started!
4. Update your website design. As the web standards change, so should your design. Even a beautiful design from a year or two ago will quickly become outdated, and might even include errors, as the Internet evolves at an incredible pace. From new search algorithms to new browser versions, the way information is displayed on the web is constantly changing. Be sure you have a website that is searchable and attractive in 2013.
5. Use your analytics.
From bounce rate to referrals sites, its important to know some key things: 1) where your visitors are coming from; 2) What they are doing on your site, and; 3) when and why they are leaving. You can gain some insight into these factors by reviewing your analytics and using them to update your website accordingly.
Use these simple analytic tips
to make the most of your website analytics.
Make the most of your website in 2013 by resolving to become more active and more connected than ever. Make your website one of your biggest marketing assets!
What resolutions have you made for 2013? Share them in the comments below!
7 Tips for a Successful Blog
Blogging
5 months ago
Simple blogging tips to make your blog successful.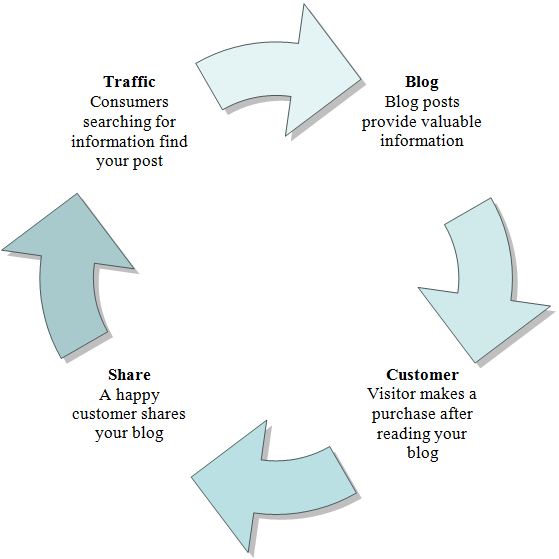 Yes, blogging has been around for several years. And yes, in the Internet world, that means it is antique. But just because it is old, doesn't mean it isn't still valuable! Here are some blog tips to help you make the most of your time.
7 Blog Tips for a Successful Blog
1. Make it personal. The internet trend, brought on by social media interaction, is to get personal. Your web users want to know who YOU are, not just see the faceless, nameless company blog you maintain. So don't be afraid to talk directly to your audience, and use personal names, experiences, and even photos to get your message across. Include a short bio of the blog author, and link to your own or your company's social media profiles so they can connect with your further.
2. Make it useful. People don't have time to read everything out there. So make your blog useful by providing facts and information in an appealing format. Readers don't want to hear you brag about your business - they are looking for information or to be entertained. Make sure each blog post provides value, and you can create lifelong fans out of your website visitors.
3. Keep it simple. Make sure your blog is easy to read. That means big, bold headlines, simple images, charts, or graphs, and short paragraphs. Bullet points or lists are also good ways to make information easier for the reader to skim and digest. The easier the information is to consume, the more likely people will stay and read it. Also, be sure to consider the design of your blog - font type and size, background, and layout will give readers a good (or bad) first impression of your blog.
4. Use key terms.
When picking blog topics, consider what people are looking for and pick your subjects accordingly. For example, if you are a landscaping company, terms like "landscaping designs" or "Tips for Hedges" would be good examples of key terms people are searching for. Then write your blogs using these subjects. You can even research the key phrases most commonly used (Google has a
good tool for this
.). Then use those key phrases in your blog title, headings, and throughout the blog.
5. Use Multi Media.
Videos and images are more commonly shared than text. So make sure your blog contains lots of good media, not just a bunch of boring text. And it can save you time – I know its cliché, but isn't a picture worth a thousand words? You can find images or videos on the Internet (be sure to credit your sources), create your own images or charts in word processing programs, and even create your own videos. Free services
Piktochart
allow you to create infographics, a great way to present facts that are easy to share.
6. Share, Share, Share.
Be sure to make it easy for readers to share your blog – through Facebook, Twitter, StumbleUpon, Pinterest, Email, and other venues. (
www.addthis.com
has a share bar you can install for free). Remember, the more it is share, the more visitors you get, and the better chance you have of gaining a new customer (and creating more fans for your business). Be sure to also share it through your own social media accounts for increased exposure and back links.
7. Blog analytics.
Keep track of your visitors.
Google Analytics
is probably the easiest blog analytics to install. You can then see what posts are the most popular, and how people are finding these posts (through Facebook sharing, through specific search terms, etc.). Then use that information to guide your choice in content. Perhaps your blog post about DIY lawn maintenance had a very high traffic rate - you can always do a second blog about the topic, or other related topics. It helps to know what your audience is looking for, and how they are responding to your blogs. You also should keep track of whether people leave from your blog, or go on to your other pages of your website. Do they contact you? Do they look at your products or services? Determine which blogs are most effective in sending visitors to other pages of your site and try to repeat the techniques that prove successful.
Remember, blogging once a month is better than not blogging at all. And including one simple image is better than no image. Do the best you can with the time you have. It will pay off.
Lindsey Winsemius is the Vice President of Communications for ApogeeINVENT, and is the social media voice and blogger for the company. Follow her on
Twitter
or connect with her on
Google+