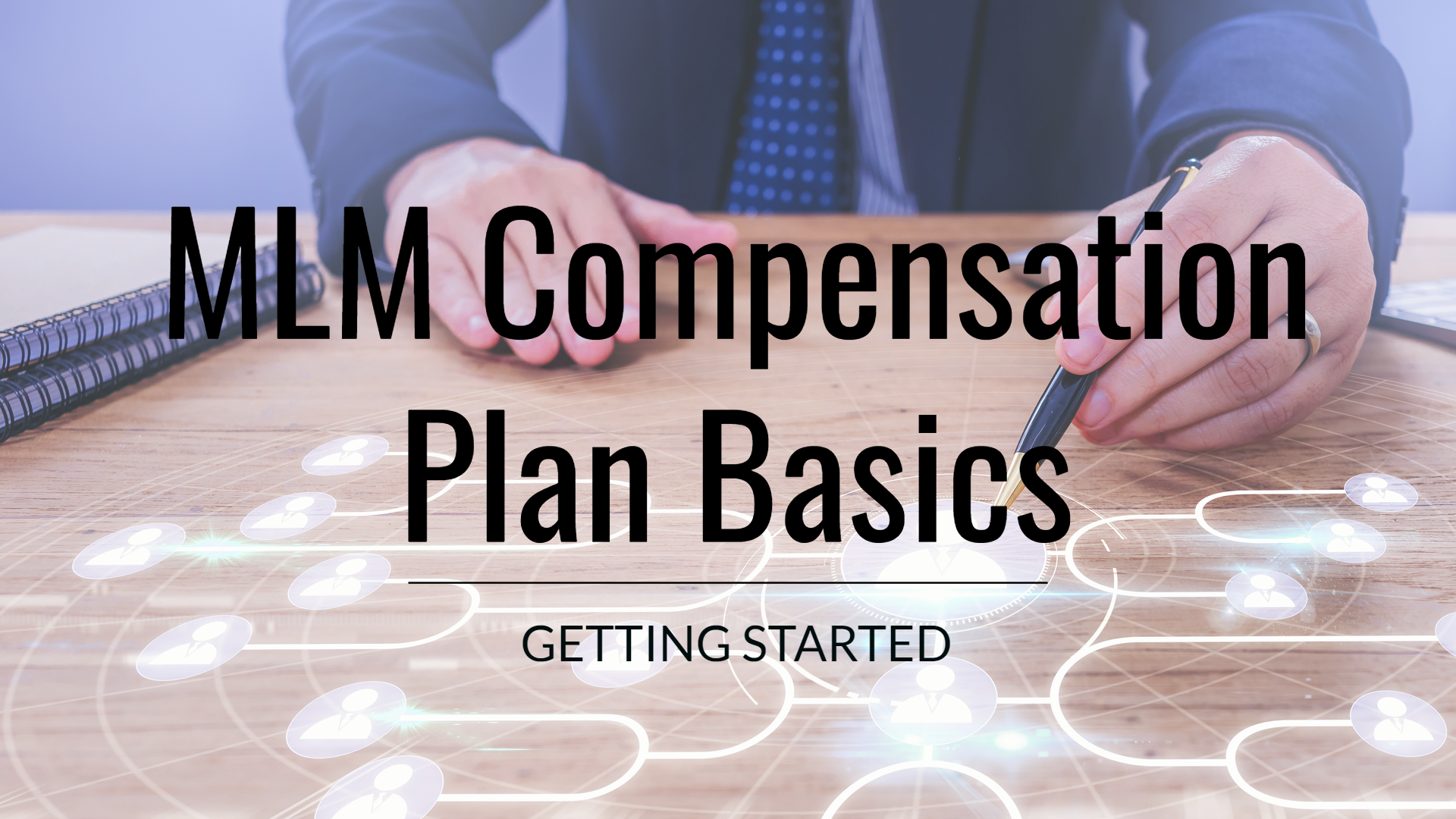 Everything you need to know about MLM compensation plans: The basics.
There are many choices for MLM companies when creating the perfect compensation plan. The right compensation plan can make the difference between success or failure of network marketing companies.
Some compensation plans can be quite tricky to figure out, which is harmful in the long run, since it becomes too difficult to explain to new recruits. The benefits must be obvious right away for new sign ups, which is why keeping is simple, or as simple as possible, is important.
I've outlined the basics of compensation plans below to help get you started planning for your MLM compensation plan.
If you're already well-versed in MLM compensation plan structure,
contact us now
and talk to one of our consultants about getting set up. The first consultation is always free.
What do most MLM compensation plans have in common?
MLM Compensation Plan: A product.
All MLMs must sell a product or service to legally operate. Commissions must be paid on the products or services sold by the distributor, not on their recruitment. Products or services can be physical or virtual. We've worked with companies with skin care products, health supplements, and digital downloads or listening apps.
Regardless of what you're selling, all MLM compensation plans must payout based on the product or service being sold. Understanding your product, your margins, and the sale cycle is essential to crafting a great compensation plan to properly incentivize your distributors.
MLM Compensation Plan: A point system.
Most MLM compensation plans have a point system incorporated into their earnings structure. These points can be exchanged for cash payouts or other rewards / bonuses. This is where the right software becomes important, as tracking and calculating points and payouts can get quite complicated as the company grows.
Wholesale purchasing and Point Volume (PV):
The point volume is the total purchases made by a distributor, or customers of the distributor, or a combination of both. Distributors typically need to maintain a minimum PV to remain eligible for commissions, and pay a discounted or wholesale price for their purchases. Many plans offer a 25 / 30% discount off retail, and then payout 40 – 60% of wholesale.
Bonus Value (BV):
Some businesses have products with variable markup. They will often assign a bonus value to those products, and payout based on either PV or BV. This can help to maintain control over profit margins for the businesses, and may be necessary when introducing new products or services to remain competitive.
Business Volume:
An alternative term for Point Volume or Bonus Volume, and is used to calculate overrides and commissions.
Levels:
Each compensation plan has different levels that new recruits are placed. Typically each level has a different payout, and contribute towards the sponsor's passive income. The nature of the payouts and downline placements are determined by the MLM compensation plan type.
Overrides or Commissions:
The commissions are generally paid on the total sales of an individual's downline, which is called the Group Purchase Volume (GPV) or Group Bonus Value (GBV). The percentage for each distributor in the group depends on their position and the position of their sponsor.
Compensation plans share many common features, but each has unique advantages. The savvy MLM owner knows how to choose the features that fit their business while keeping in mind basic
compensation plan best practices.
In the next few articles of this series, I'll go over the most popular compensation plan structures, including:
Matrix
Binary
Unilevel
Stair Step Breakaway
Are you thinking about starting an MLM business? We offer a
free initial consultation
. Our award-winning TitanMLM Network Marketing Software has been called "hands down best for start up MLMs".