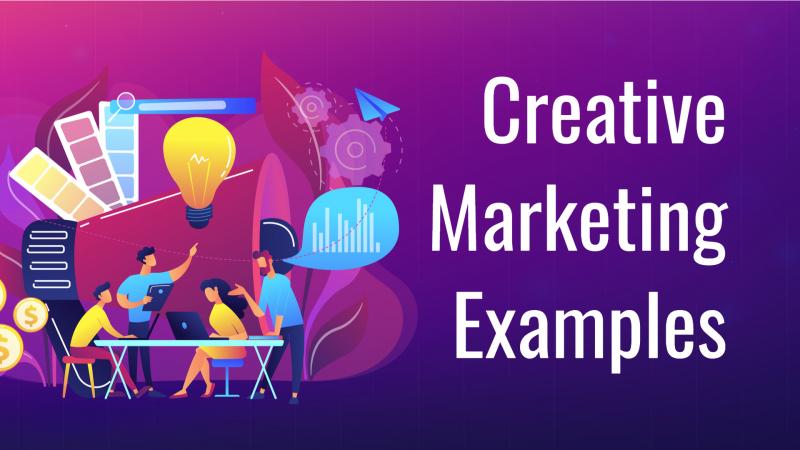 Digital marketing is tough because it is always changing and its highly competitive.
Just when I learn a cool new marketing idea, it seems everyone is doing it, making it less effective. How can a brand compete? Sometimes, you need to just think a little differently to grab the attention of your audience.
Here are several examples of highly creative marketing campaigns that generated a lot of buzz for their brands.
1. Dubai Banks and Police Viral Video
I was scrolling through my LinkedIn feed when this video caught my eye. This hilarious video on cyber security was created when Dubai banks and police teamed up. It was a perfect choice for Millennials like myself because this Shaggy song was popular during my young adult years, and it created a sense of recognition and nostalgia that really connected.
Viral videos often have one major thing in common - they trigger intense emotion. Humor, sadness, empathy... these are all emotions at the root of viral videos seen all over the web. If you're looking to connect with your audience, create a video that will trigger intense emotion. They need to be able to relate to the video, and it should be something unexpected.
2. WWF Give a Hand to Wildlife Campaign
This is a little bit older of a campaign, but I came across one of the graphics and found it to be still powerful. Using hands to represent different animals was a clever way to connect our human influence on the world's animal populations.
It also shows how we, as individuals, can "give wildlife a hand" and contribute to bringing about meaningful change.
Like the viral video of example one, this campaign triggers emotion in its intended audience. It is also content that is easy to share and experience quickly and visually, making it the perfect campaign to go viral.
3. Upside Down Car Dealership Ads
Commuters seeing the ads turn the web to share images on social media and ask, why are those billboards upside down? The campaign generated buzz for the brand, and helped to drive their unique selling proposition home - that they were turning the car sales industry upside down by selling cars differently than other dealerships.
This campaign succeeded because it was something unexpected. It got people talking, and even got them featured in local media stories.
While the campaign successfully grabbed the attention of motorists and even the media, Mass DOT asked the company to change the ads because it was feared they would be a distraction to drivers.
4. Farmers on YouTube
Farmers are turning to social media to post about their crops — earning more on YouTube than through actual farming,
according to Bloomberg
.
One farmer, who posts under the name
MN Millennial Farmer
(in the video below), has racked up over 300,000 subscribers and 50 million views — earning more than five times what he made on his farm last year through YouTube.
Farmers like MN Millennial Farmer are finding success because they are putting a face to where food is coming from. More people are interested to know what happens behind the scenes; where there food is coming from, what products are being used on the crops, and the lifestyle associated with farming.
Other personal brands that are finding YouTube fame include Suzanne Cook, or
WT Farm Girl
, who has racked up nearly 40,000 subscribers documenting her experience as a first-generation farmer, learning and failing in front of the camera.
Cook, who is 37, advocates for more women to get involved in farming.
Personal branding is a powerful tool to grow your business, so making marketing personal is another key to creative marketing success. It also helps that farmers know their audience. YouTube is the most popular medium among rural communities, with 59% choosing it over any other type of social media, says Pew.
5. Mr. Peanut is killed off by Planters
This recent example caught me by surprise when I logged onto Twitter last week to do a little social media marketing. As always, I checked the trending hashtags, and imagine my surprise to see #RIPeanut is trending.
The popular brand Planters Nuts killed off their long-time mascot in a marketing campaign that went viral.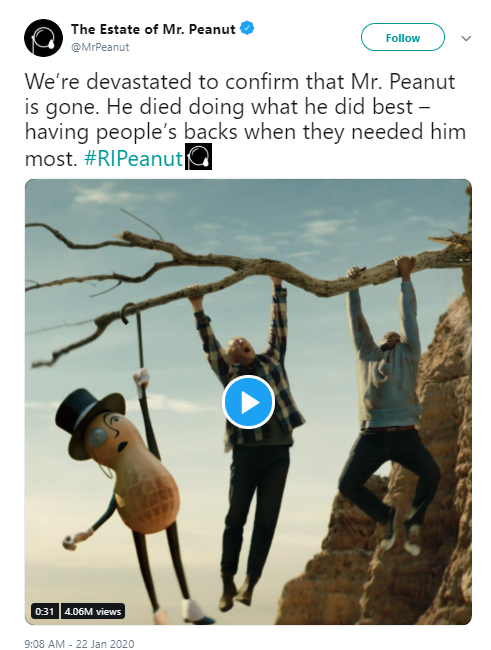 The company invested in a video including celebrities like Wesley Snipes to tell the story of how Mr. Peanut died in a selfless act to save his friends. Other brands, like Mr. Clean, lamented the death of the mascot.
The campaign was launched with the culmination intending to be a Superbowl ad (this weekend) but the campaign was temporarily paused after the death of basketball star Kobe Bryant. As of this posting, the ad is still planned to air during the Superbowl.
In my opinion, this was a bit of a risk for the company. It certainly grabbed the attention of the digital world, but some question that the company may have gone too far. I'm curious to see where they go with the campaign.
What do you think? Tasteless or clever marketing?
Have opinions about any of these creative marketing campaigns? Share them now!