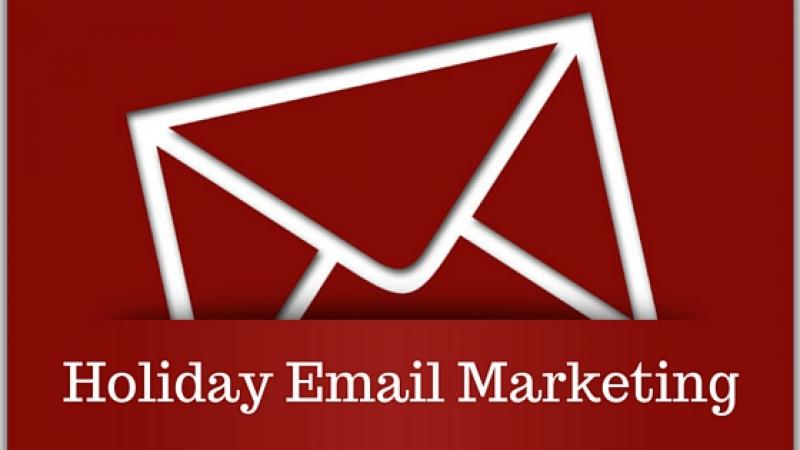 Getting Ready for the Holidays Part 2:
Holiday Email Marketing
I've already spent a lot of time telling you how email has the highest ROI of any digital marketing medium for many businesses. Naturally, email marketing should be an important part of your holiday marketing campaigns.
How can you use email marketing this holiday season to increase your sales?
1. Offer an exclusive deal to your email list.
We all like to feel part of an exclusive group. By creating a special deal, like a coupon or giveaway, just for your email list, you will be letting them know they are special. This engenders more positive feelings towards your brand and will make them more likely to buy. It will also prove that being on your subscriber list has value, and they will remain a loyal subscriber, which is hugely valuable to your business.
2. Make your deals time-sensitive.
If you tell your subscribers that a certain deal is only for a limited time (a day, a week, by XX date), they will feel a sense of urgency to buy. It is natural for us to want to wait and look for a better deal, or just come back another time when we feel more like shopping or filling out purchase information. And then many times, we might forget to make the purchase at all. If you tell your subscribers that the deal will end, they will be more likely to complete the purchase immediately. The same concept applies to items that are limited in stock.
3. Tell your customers what day they need to purchase by in order to receive an item by Christmas.
Include a date in your email that a purchase needs to be made so their gift can arrive before Christmas. Your subscribers will appreciate the reminder, and it will also help with the sense of urgency described above.
4. Participate in Cyber Monday.
Shoppers are looking to the Internet this year, and Cyber Monday is becoming the highly popular online shopping day with many deals rivaling those of Black Friday. Create your own special Cyber Monday deal and let your subscribers know about ahead of time.
5. Run a holiday giveaway to make your emails viral.
Set up a giveaway of something relevant to your audience (one of your products or services, or an item they might use with your product or service). Require them to perform an action, such as filling out a form, answering a survey question, interacting on social media, or another way to build your brand. Encourage your email subscribers to share the email with their friends and family.
6. Incorporate your content marketing efforts to increase clicks.
Do you write blogs, create slideshows, infographics, or other content? Consider creating one just for the holidays and send it via email. Make it fun but relevant to your audience so they'll want to click and visit your website.
7. Highlight bestselling products or services.
Do you have a really popular product or service? Select one and highlight it in an email as a favorite holiday gift. Include a review or rating, and have a link take the email reader directly to the purchase page.
8. Optimize your emails for mobile users.
While the numbers vary by audience demographic, chances are good that a majority of your readers are checking your emails on their mobile devices. Make sure your message are mobile-friendly. What makes a message mobile-friendly? Single columns, large text, clearly defined sections with plenty of white space, and buttons or links that are easy to click on a phone or tablet. Also, avoid using too many images or including your main message in your images, because many email providers suppress images.
9. Spend extra time on your subject lines and preheaders.
You are not going to be the only business sending out emails this holiday season. You need to make sure your emails are going to get noticed. Spend extra time thinking about the best subject lines for your emails and what is going to appear as the preheader, or the snippet that most email recipients see of the email after the subject line.
What kind of the email subject lines work best? Hint at the content contained in your email without giving it all away. "Looking for a perfect gift for him this holiday?" or "And the top selling gift this season is…" Pique their interest so they will want to read on. Just make sure your email lives up to the subject. Avoid using words in your subject like "free", writing in all caps, or symbols that might turn people away or make your message get stuck in spam filters.
10. Keep building your lists.
No matter what kind of sales or specials you are offering, make sure you are capturing the emails of people who participate. The holidays are a great time to build your subscriber lists by letting people know if the exclusive deals, special offers, great content, giveaways, and other benefits of being part of your email list.
---
It's not too early to start your marketing campaigns for the holidays. Nearly 1/4 of people begin their shopping before Halloween. Do you plan on using email to reach your audience this holiday season? Why or why not?