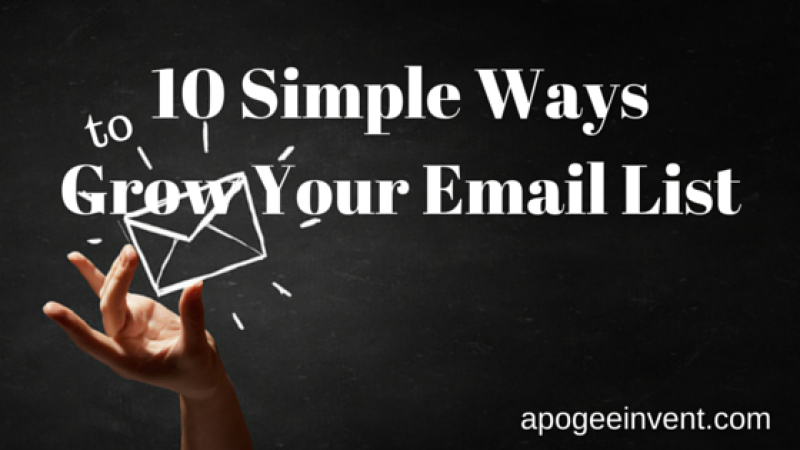 And don't forget, most businesses lose nearly 1/4th of their mailing list each year. It is important to always be growing your list.
How can you build a mailing list?
Here are a 10 Simple Ways to Grow Your Email List

1. Try holding a giveaway or special offer.
Depending on your industry type, host a giveaway (for B2C businesses) or offer a special deal if you're a B2B company.
How does it work? Create a giveaway or offer that will appeal to your audience. Direct them to a simple landing page or newsletter sign up. Then spread the word using social media outlets and encouraging sharing by your entrants (some giveaways require entrants to share the giveaway as part of the rules to enter).
Make sure you announce your winner on both social media and through your mailing list to reinforce the exclusive value of being a member of your mailing list.
In the same way, you could create a special discount offer exclusive to people on your mailing list. Be sure to share the special offer to encourage new sign ups.
2. Leverage social media.
Social media can be a powerful tool to spread the word about offers. Leverage it as much as possible. For example, Facebook has several ways to promote your mailing list. You can use the Call to Action button and send users to your email sign up. Post your free content on Facebook that requires an email sign up, or just promote your email sign up page on your wall. Consider trying an ad or promotion and see how many sign ups you can gain.
3. Consider paid search to acquire subscribers.
Don't be afraid to invest a little money into building your mailing list. It will pay off if you combine a paid marketing campaign with quality emails.
Create a well-designed landing page that focuses on getting visitors to sign up for your email. You can combine paid advertising with giveaways or special offers, as well as content marketing. Then use whatever platform you feel most comfortable: Facebook, Google Ads, Bing, etc. Be sure your ad matches the landing page you are directing users to. Take the time understand your audience and build a simple email capture form that will appeal to them.
4. Have a sign up page or pop up.
How prominent is your email sign up? Be sure you have a sign up form on all your web pages, and in an easy-to-find location. Pop ups are back in style, so consider using a pop up window to ask for website visitor's emails.
What does a great email sign up look like?
Tell them what content you will send.
How often you will be emailing them? Weekly, daily, monthly.
Use eye-catching words on your submit button.
5. Content Marketing
People will part with their personal information in exchange for something of value. We talked about giving them value through giveaways or special offers, but you can also offer them information. Blogs, articles, whitepapers, infographics, or ebooks are all content you can offer in exchange for their email address.
Some methods, such as a blog, are less direct. You provide the information and hope they will enjoy it enough to subscribe for more info. While you might get fewer emails, you will probably have a higher number of site visitors and shares.
You can also require the visitor to enter their email before they can access the content you've created. Just be sure the content they download matches the offer, or you risk angering your audience and they will be more likely to unsubscribe before you've even got the chance to market to them.
6. Add an email signature link to your sign up page.
Include a link to your email sign up in your email signature, and if you have employees, ask them to do the same. That will ensure people you or your employees email will have the option of joining your mailing list. It is a great way to remain at the forefront of potential customer's minds, and let them know of special promotions or other valuable content.

7. Encourage sharing or forwarding of your email content.
How can you get people to share your content? Make sure it is interesting or useful. Also, you need to include a share or forward link in the header, as well as social media sharing buttons. The easier it is for people to share, the more likely they are to do so.

8. Guest blog.
If blogging is your strength, offer your blogging services to partners or other blogs in your industry. Be sure they include an author bio with a link to your email sign up page so their readers can become your subscribers.
9. Cross-promote with partners.
Reach out to other brands that might be willing to cross-promote one another's content. For example, if you are a book author, you might contact other authors and review each other's work and share it with your mailing lists. You can promote your free content, a special promotion, or send a "guest post" email where you include the type of content you normally send your list--which is hopefully useful, entertaining, or inspiring content!

10. Use offline events.
Collect business cards or emails at offline events and ask if you can add them to your list. Most people you meet will say yes. Trade shows, Meetup groups, or other events are great places to collect emails.
Do you have any unique ways you collect emails? Share them! Are you looking to collect and manage more emails of your own?
Contact us
about how our technology can help!