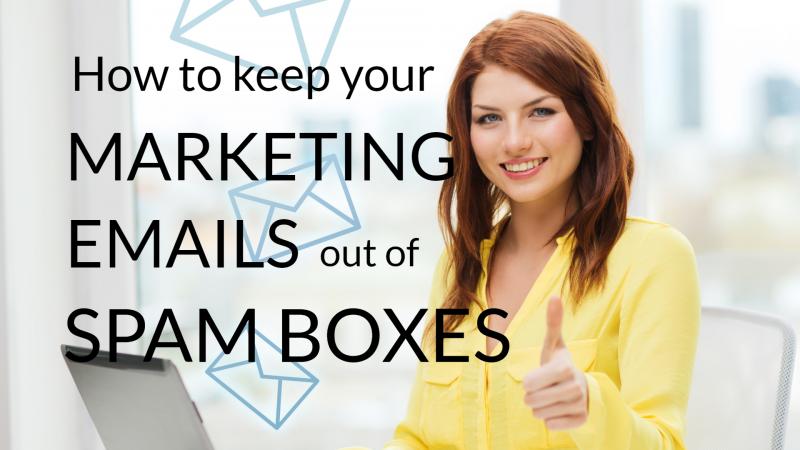 Only 80% of company emails arrive in inboxes. That means 2 out of every 10 emails you are sending could be going to spam.
That is a lot of wasted effort, and potential sales lost.
Here are a few ways to help avoid spam boxes and get more from your mailing list.
1. Don't get flagged by users.
One of the reasons your emails might get sent to spam boxes is because recipients mark your emails as spam.
Why?
Users don't remember you.
They might not remember signing up for your service. Make sure the "From" address is clear and descriptive and related to the company name or product name they signed up to hear from. If I get an email from "Office" or "Info" I'm much more likely to just delete it, unsubscribe, or even mark as spam.
Many providers also include a message such as "You are receiving this email because you signed up to get messages from XYZ Company and their affiliates."
You added users without their consent.
Avoid adding people to your mailing list without their consent. Not only does this go against the Can-Spam Act, it is also going to increase your odds of getting flagged as a spammer.
Users can't find the unsubscribe easily.
Sometimes unsubscribing is a headache. The link is hard to find or you need to scroll to the bottom of a long email to look for it. Then you need to click three times and enter in your email or select from multiple subscription options… And I just spent ten minutes of my valuable time telling someone I don't want their emails.
It is easier just to hit Spam at the top of my email provider, and never see those emails again.
I'm sure I'm not the only person who does this. Avoid getting flagged as spam by having a clear unsubscribe and making the process easy. Don't think that by hiding the unsubscribe you're more likely to keep subscribers. You're just more likely to end up in spam boxes.
2. Focus on Quality over Quantity in your Mailing List
Just like search engines use algorithms to rank your website, email providers use algorithms to identify and block spam.
Understanding those algorithms is important to avoiding spam boxes and getting in front of your audience.
One thing that email providers look for is the number of real emails on a mailing list, or emails that bounce. We don't have a captcha on all our website forms, and so a lot of spam can build up in our CRM. I try to regularly go through and purge these fake emails, because they will hurt my deliverability rates.
If you have emails that aren't real, or have been abandoned by users, that is going to hurt your entire list. Make sure you go through and remove subscribers that never open emails.
I will periodically send out a "Do you want to keep getting my emails?" campaign to allow subscribers the chance to stay on my list. If they don't open an email when I'm warning them I'm removing them from my list, they probably don't want to get my emails, anyway.
I can then safely purge my email list, and help stay out of spam filters.
Another benefit of purging your mailing list is saving you money. Some email providers charge you for every email or contact. Fewer contacts that are high quality will save you money and increase your email ROI.
3. Focus on Increasing your Open Rates
Email providers will flag your emails as spam if you have low open rates. This is another reason why having a quality mailing list is important.
Approximately 26% of email campaigns are incorrectly flagged as spam because of low open rates, according to OptinMonster.
How can you improve your open rates?
Write better subject lines, purge your mailing list regularly to remove accounts that never open emails, segment your lists, and test out the best time of day and day of the week for sending.
Here are a few tips:
4. Avoid sending from a Flagged IP Address
Emails send from an IP address, usually one hosted by your email service. If other people using that same service are sending spam, and that IP address gets flagged, your emails will also be marked as spam.
That is the reason many email services are strict about spam rules; they know it is going to hurt all their clients, and their business, if they allow people to send emails that could be flagged as spam.
Choose a reputable emailing service that actively works to maintain a clean IP address. We monitor the IP addresses that go through Postal Parrot, the mailing service that is built into all our products. We have a feature to allow subscribers to "Mark Abuse" by a mailer, which will then go to us so we can review the account of the emailer. Too many abuse claims and we suspend users' accounts to help us keep our IP address clean and unflagged.
5. Use your company domain name
It might not seem like a big deal to create a gmail or other email address to use as a "from" address when mailing. After all, it will be easy to manage and gmail is free.
However, Gmail and other email providers know the email is not sending from their servers, and flags it as a possible "spoofing". This is a common spammer tactic to make it look like their emails are coming from legitimate sources. This will cause Gmail to block your email as a protective measure.
The best way to avoid this is by setting up a company email address on your domain name. You can get affordable email domains through services like GoDaddy or Google.
6. Write good content.
Content can also make a difference in whether or not your emails are getting flagged as spam.
Subject lines need to match the content found within the email. Don't try and trick your subscribers into opening emails with false or exaggerated subject lines. Email providers are scanning your content and the don't like it. Your subscribers won't like it either.
Avoid using spam trigger words in your subject lines. Some trigger words include:
amazing
cancel at any time
check or money order
click here
congratulations
dear friend
for only ($)
free or toll-free
great offer
guarantee
increase sales
order now
promise you
risk free
special promotion
this is not spam
winner
Some email providers have a built in tool to check for spam triggers. If not, you can try using IsNotSpam, a free online tool to scan your content for spam triggers.
Don't use only images in your emails. A combination of minimal images and text is ideal.
7. Ask subscribers to help.
There are a few ways subscribers to take action that will help keep your emails from spam.
Subscribers can whitelist your emails.
By marking your emails as "Not Spam", subscribers can help teach email providers that your emails are important. How can a subscriber whitelist your email?
How to Whitelist an Email Address with Gmail
2.
Click on the drop down arrow next to the "Reply" button
3.
Select "Add to Contacts List"
4.
Click on the "More" button above the email header
5.
Select "Filter messages like these"
6.
At the bottom of the search window, click "Create filter with this search"
7.
Check the box that says "Never send it to Spam"
How to Whitelist an Email Address with Outlook
2.
Right-click on the sender's name, and click "Add to Outlook Contacts"
4.
On the Tools menu, click "Options"
5.
On the Preferences tab, under E-mail, click "Junk E-mail"
6.
Click the Safe Senders tab
7.
Select the "Also trust e-mail from my Contacts" check box
Ask subscribers to move your email to the primary inbox.
In Gmail, emails are segregated by type. If users drag your email from the "updates" or "promotions" tab to the primary inbox, it will help solidify the importance of your email and will tell the provider that your emails are important and legitimate, reducing the likelihood of them ending up in spam boxes.
Users can also mark emails as important, another action you can encourage by just asking in your email!
Get subscribers to reply.
If you use a "reply-to" address in your email campaigns that is monitored (which I recommend), try running campaigns that encourage a reply. For example, we ran an email campaign that offered a $100 coupon exclusively to our mailing list. To get the coupon, they just needed to reply to the email and type COUPON.
We had a great response to this campaign, generating new revenue and letting our subscribers know we truly appreciate them. The campaign also helped our deliverability rates by telling email providers that our emails are legitimate and important because people are replying to them.
Conclusion
Building a mailing list takes time, but the important thing to remember is focus on quality over quantity.
Don't let your emails get flagged as spam by reminding subscribers of who you are, making it easy to unsubscribe, and only add people who consent to be on your list.
Build a quality mailing list by removing spam or inactive subscribers.
Increase your email open rates by following email marketing best practices.
Use a reputable mailing service that actively monitors their servers and clients to avoid sending from a flagged IP Address.
Use a company domain name (info@yourcompany.com) so your emails don't mistakenly get marked as "spoof" emails.
Ask your subscribers for help by moving your emails to their inbox, marking them as important, white-listing them, or encouraging replies.
Talk to me
Have questions about email and spam? Want to add some info I might have missed? Share your thoughts in the comments.