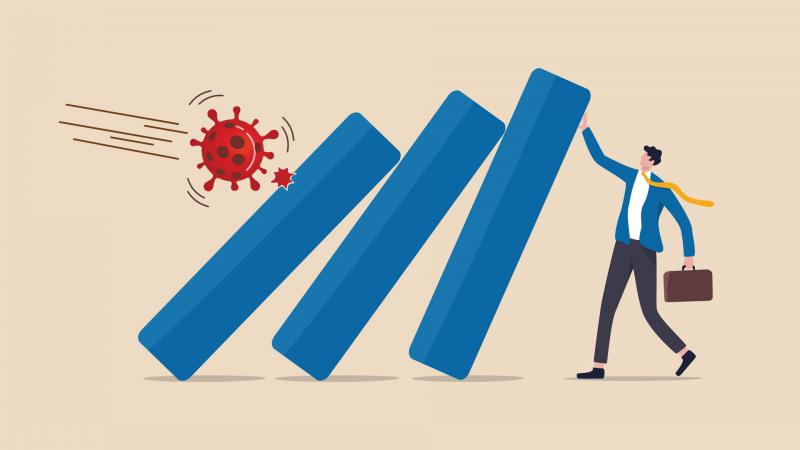 There is a lot of uncertainty right now for business owners. Can I stay open in locations that are under "shut down" orders? What should my message be for consumers or the businesses I serve? What can I do to keep my business afloat during this time of upheaval?
From my local florist to large corporations like Amazon, every business is struggling to alter their message and change their plan to adjust.
Here are what a few businesses are doing to get through these difficult times:
Dan Seaman of
ADMarketingPROS
says he recommends businesses focus on the positives. He is practicing what he preaches in his
personal blog
that highlights all the good news when it seems like news streams are inundated with negatives like daily death tolls.
It is also a great idea to offer specials to companies that need to watch their budget.
ADMarketingPROS has also created a special offer for businesses that are struggling right now – a
free business strategy map
. Their software helps businesses create a strategy map to increase leads and sales, with a mini map to help you get started. They also have discounted display advertising and retargeting to help companies make the most of their advertising dollars.
Mohamed Fazal of
Mudfarm Organix Botanicals
recommends businesses focus on their digital presence. "More online marketing!" They're offering free shipping for every order in the US and Canada to continue getting their essential personal care products to customers.
Vee from
Velu Fur
has been hit hard by the cancellation of festivals. "Our biggest sales days of the year are during festivals, so when the order to shut down public gatherings was issued, 90% of our income was affected. It is almost impossible to sell our product online as it's hard to know what size you want and it's difficult for customers to ship back returns. Unless you have physically seen our product, it's difficult for the average consumer to spend that much money on an online product as well." Instead of focusing on selling products right now, they're using this time to intimately connect with their customers.
They've been asking things like "Where did you buy your first product of ours? Was it at a festival? Send us a photo!"
"We've been seeing a lot of customers wear our products at home so we're focusing on having fun with that and so far we've gotten great results. People wearing our product to walk their dogs, to cook in the kitchen, to check their mail... We're naturally getting authentic, awesome content." Says Vee.
Vee recommends other businesses don't do anything drastic, but to focus on their core message. "DO NOT do anything drastic during this time period. Do not try and launch a new rebranding campaign right now either. Focus on the qualities that made your company great. This is a great time of reflection of what already is and the time to make a game plan of what can be. Get back to grassroots promotions."
This is also a good time to focus on internal growth. "I'm also paying for my employee and me to take online courses to better our understanding of complex topics related to our fields. Learning something new will help motivate us to implement them when things start getting a little more normal for us."
Leonardo is the Owner / Operator of M.o.l Express. He has been tirelessly delivering higher than normal amounts of medical equipment at a discounted price during the pandemic. He recommends businesses keep helping one another and not to panic. Focus on what you can do to help.
Andy Bartush of CalDistro hasn't seen a need to make drastic changes in their business strategy. "Cannabis is an essential business so it's still ongoing. There are however interesting ups and downs right now. Retail sales are up which has increased the demand for distribution and manufacturing but at the same time some manufacturers and farms are slowing down." He recommends companies try to stay the course, and keep in mind that "this too shall pass."
Another business that hasn't seen too much change is affiliate company
Affiliate Nutra
. Shipping times of their private label supplements have changed, like many companies are seeing, but overall Affiliate Nutra has not changed their current marketing strategy.
Chase Kost of
ChaseDaddy.com
suggests that this is a good time to ramp up your company's social media presence.
Rick of
JoyPixels.com
has seen a drop in business. To combat this and help out companies that might need a marketing boost right not, they are offering 25 – 50% discount on their Enterprise packages. JoyPixels was invented in 2014 out of necessity for businesses to use custom emojis, animations, and other graphics for legal distribution.
Rick recommends businesses that are having hardships should access available resources. "Research how the Cares stimulus can benefit your small business, or contact your accountant."
One Las Vegas rental business is doing their part of help healthcare professionals. "I have decreased my rates to just enough to break even on my expenses and extended my stays to from no longer than a week to longer than a month. This is to help healthcare professionals have reasonably priced housing for their needs and to offer help people who are displaced by the pandemic have affordable, furnished housing options." The company, Vegas Oasis, has been hit hard, like many that depend on tourism. Instead of focusing on profits, the company is finding a way to help.
They have also changed their messaging to reflect current concerns of consumers. "On hospitality platforms I have changed the messaging to emphasis how my properties are ideal for this moment in time with fully appointed kitchens, even though many of them are smaller spaces, and also how we professionally clean the and sanitize the spaces to the highest standards."
Their targeting has changed, leveraging social media more than ever before. "I have direct marketed to my robust social network, something I have never done before, communicating how my housing could be ideal for people needing to downsize and cut costs with great success thus far."
Vegas Oasis recommends other companies create a plan to just stay afloat, while at the same time be flexible and ready to change that plan as the things change around us. "I can only share what's working for me: make a plan or few on how to cover your expenses, or come as close as possible, so to have a business to operate at a profit in the future, be willing to make quick adjustments away from what's not working and embrace what is working based on market feedback and essentially be an entrepreneur on hyperspeed."
Jonathan Ritchie of
Rapid Supply Service
s has also found that being able to adapt quickly was essential to the survival of his business. "If we did not pivot quickly, we would have watched it destroy us." They are using this time to plan for the future, offering older generation products at discounted rates to fund future generation products. The company has also ramped up their social media advertising to market their new product offerings and improvements.
He recommends businesses be flexible and move quickly. "Do not wait to make a change. Everything around you has changed and you cannot force the world to fit your business plan; you must adjust your plan to fit the new world."
Kyle Calwhite of
Bisk Education
has not seen a significant change in business during this time, other than switching to working remotely. He recommends companies focus on the needs of their customers. "Find effective ways to help people and focus on their needs."
---