A lot has change in the past year. From the pandemic to politics, we've all been through changes, uncertainty, and not a little stress.
Today I want to focus on some of the major changes in digital marketing. Our clients have been stressed, worried about the future of their business, and have needed to adapt to fit the swiftly changing world around us.
One business owner said it best: "Don't get stuck in the way you've been doing things. To survive, you need to adapt and be ready to change everything in a moment."
Here are some trends that really took off during the past year:
Video goes Live
Video has been a growing trend we've talked about for the past several years. I've encouraged our audience of business owners many times to find a way to implement a video strategy for their business.
This year, as more people are stuck at home and relying on virtual connections, video is more essential than ever. But now, many businesses are taking video to the next level. What does that mean?
Live video.
Livestreaming has become a popular, important part of a video marketing strategy.
The live streaming market worldwide is projected to grow to $70.05 Billion by 2021. 76.5% of small business owners get results with video marketing. In 2020, 92% of marketers say that video is an important part of their marketing strategy for businesses. This has grown from 78% in 2015.
Why live stream?
In our increasingly virtual world, people still crave that human connection. While video can give people a glimpse at the faces behind a brand, or experience the story and products of a brand in a new way, there can still be a disconnect. Polished, edited videos aren't authentic in the way a live video is. You can't edit a livestream, as CryptoComics CEO Jared likes to joke during his company's streams.
CryptoComics
, the startup we've partnered to build with eComicz, has done a great job in the past year implementing a livestream video strategy.
Starting with just a single show that featured several team members discussing comics and the CryptoComics community, they have added shows and grown their subscribers week after week.
What is the secret to live stream success?
Be yourself.
People are looking for authenticity, and they want to know the real you. Let your personality shine through. Don't have a great personality for videos? Choose someone in your organization who feels comfortable and brings the right energy.
Choose the right topic.
Ask yourself what your audience would want to see. What would YOU take the time to view? Information, news, product reveals, live interviews… these are all potential topics to cover during a live stream.
The important thing is that you're connecting with your audience and building trust.
Try different things.
CryptoComics continually makes adjustments to their shows. They now have three different shows, the chat / news show they started with, a spotlight show that features a creator or publishers from their community, and an educational "how-to" series. They've tried different times and days, tried different numbers of hosts and guests, and even topics.
Never give up.
The first couple shows for CryptoComics had only a few viewers. But the team wasn't discouraged. They kept streaming, and over time, built up regular viewers that engaged and looked forward to upcoming shows.
One of their shows went viral and had over 40,000 viewers. This helped to boost their subscribers, and while their viewership returned to normal afterwards, they did get a few more loyal viewers.
Numbers will fluctuate, but a consistent, authentic strategy over time will build your core viewership, which is where the real value will come from. If you're not getting any traction, remember the item above: keep trying different things to see what people are interested in watching.
Create an Engagement Plan
Engagement is crucial to a successful live stream. Encourage engagement by having a plan ahead of time on how to get your viewers to engage.
Ask people to share in the comments where they are from and mention locations aloud during the stream.
Greet users by name as they join, if you have that ability.
Ask your viewers specific questions directly, instead of open-ended things like "Ask us questions" or "Do you have any questions for us?". This will help break the ice and get a conversation going. If viewers feel like a part of your show, it helps to build the community aspect, get natural chat conversations going, and will make viewers want to return.
Include a call to action.
Follow social media, sign up for your newsletter, visit your website, check back next week at [date, time] and mention a preview of next week's schedule. Livestreaming is building your brand, but it is also a great way to drive traffic to your website or products.
One great way to draw attention to your call to action is to use signs. I've seen people use hand-written signs, which stands out from text scrolling on the screen. CrytpoComics, from my example above, always wears t-shirts with company branding. They also include an intro and outro video that is a bit like a commercial and includes the link to their website. During their shows, they have call to actions scrolling along the bottom of the screen.
You can see from the screenshot of a
recent livestream
, the call to action is scrolling along the bottom. The team members are wearing their branded shirts. They are also engaging with the audience by sharing chat comments on screen and responding to them.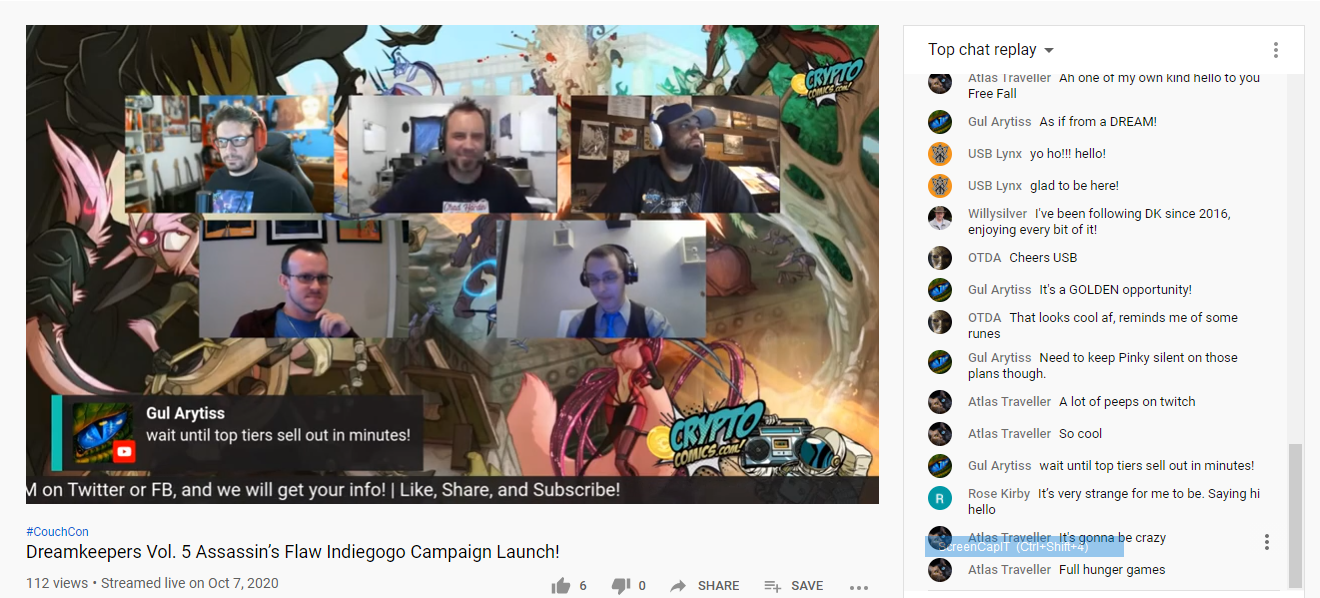 Save and reuse your broadcasts.
Use email or social channels to tell users they can view the stream later.
Write a blog post recap of your live stream with a link to the stream.
Clip sections of the livestream for shorter, more targeted segments. You can post these clips separately with titles to attract more viewers. You can also use these clips to create montages or other marketing videos.
Chat and Messaging
This isn't a new trend, but it has become increasingly important.
Consumers expect instant gratification. High speed internet. On demand movies. Same day delivery. Autoresponder emails. We live in a world that is so fast-paced, it is the norm to want a response from a business immediately.
Live chat gives website visitors the immediate response they want from your business. There are many great chat services available that are free or low cost, and make it easy for you to respond.
We use Tawk.to, a simple service easily integrated in all our landing pages, like the
iPayAuto
one featured below.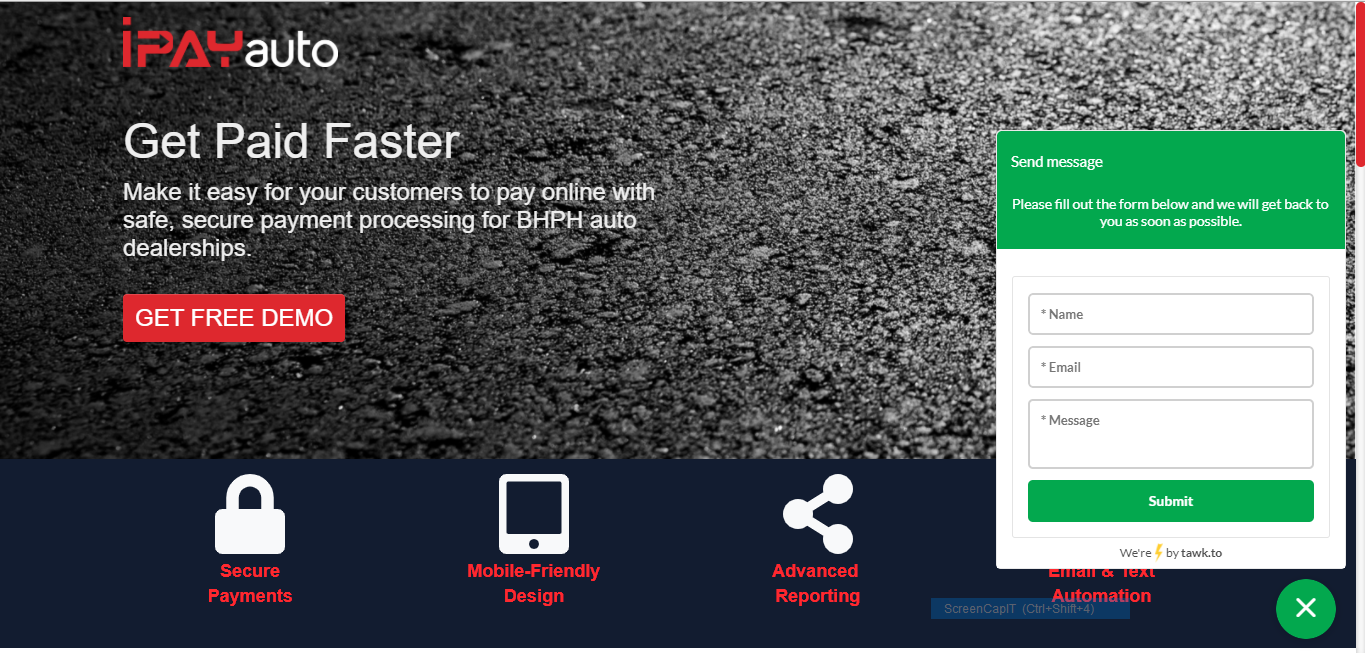 Dwight can turn it on or off directly from his phone when he is available, and reply directly to queries in the same way.
Many companies invest a lot in reaching potential customers – why not make it easy to chat with them directly?
Consumers also expect to be able to message you on social media and receive a prompt reply. Customer service a la social media has become common, and this makes it very important to be constantly monitoring your social accounts. I log in multiple times a day to check the accounts I manage so can respond to messages or tweets or comments.
If possible, use a service that allows you to manage your accounts all in the one place. Or, connect as many accounts as possible. For example, I use Facebook Business to manage our Facebook pages and Instagram accounts from the same place.
Social media isn't about self-promotion. It is about connecting with your audience, and what better way to connect than to be responsive to their queries and comments?
Virtual and Physical integration
The experience from virtual to physical must be more cohesive than ever. As more and more consumers choose virtual ways to shop and engage online due to the pandemic, companies need to offer a great experience throughout the entire buying process.
Many traditional retail businesses have separate strategies for offline and online marketing. This often creates a gap for the customers, who move across channels. Bridge this chasm by fusing your digital and physical strategies to create a seamless experience.
Whether consumers are purchasing online and picking up in the store, or researching online and buying in store, or just buying and getting deliveries, it is important to make those experiences feel the same.
For example, if you're a restaurant doing more take-out, make sure your online menu matches your physical menu as closely as possible. Your customers may have a favorite item they want to be able to locate quickly and easily. This makes the experience of ordering better for them, and more familiar to the in-person dining they are used to.
In the same way, many consumers check reviews and compare prices while they are in your store. Be sure to make it easy for customers to find the information the yare looking for. I have seen barcodes in store that allows smartphone users to scan the code and see the product listing online, complete with reviews.
Another important element is universal branding. Make sure your products / services and company branding is recognizable across physical and virtual locations. From social sites to in-store, keep the look and feel of your company persona the same.
Mapping the customer journey will help you understand how your customers are finding and interacting with your business. This can help you check that the process is cohesive and simple for your customers, and allow you to remove potential barriers.