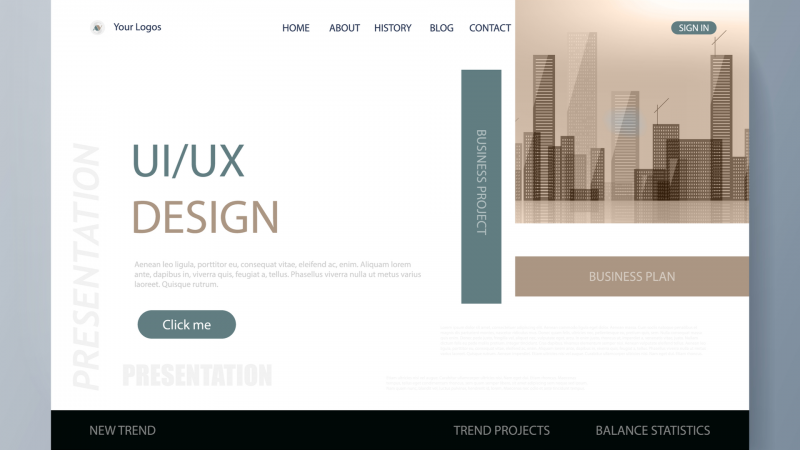 8 Questions to Ask About DIY VS Professional Websites
Wondering whether to build your own website or use a company to build one for you?
Can anyone create a website using a CMS builder like Wordpress?
Are there better options than Wordpress for small businesses?
At Apogee, we've been building websites for businesses for over 15 years. I also have personally built several websites using popular website builders like Wordpress and Weebly.
From my experience, I've learned several things about the pros and cons of building your own website vs buying a website from a professional. These are the 8 questions you should consider before making this decision:
Question 1: What do you need your website for?
When I built my personal website, I knew I wasn't going to use it very often. It was a place to send people from my Facebook page or that asked me about my project. As a hobby, I've published several novels. I never intended to make a living or even make money at all doing this, but it was a passion project and I really enjoyed the process. I also enjoyed creating these websites, and I learned a lot.
I know a bit about website building and management, thanks to my years working for Apogee. But there was still a bit of a learning curve when creating my personal website using the drag and drop editors.
My biggest frustration was the limitations. I couldn't use my experience in design and conversion rates because there were so many things I just couldn't customize on these drag and drop website builders. Buttons had limited colors and designs, I had a few design schemes to choose from but couldn't create the combination I wanted.
Unless I really wanted to invest more than the hours I was already spending, it was difficult to really get any kind of unique look to my website. Which was fine for my purposes, because I could still upload my images and write the text I needed, as well as have a simple blog.
A Do-It-Yourself website is great for hobby websites, or if your website is simply a place on Internet to send customers to find your address or get some quick information about you.
If you're willing to take the time to learn how to build the site, and keep it updated, DIY will be enough.
But for our clients that are serious about building a virtual presence and growing their business in the digital world, a custom website is the ideal solution. It ensures you get a professional result, that you have regular support, and your customer's data is secure.
We offer several
website products
that are NOT Do It Yourself, but include a CMS (Content Management System) for those clients of ours who like to make their own changes.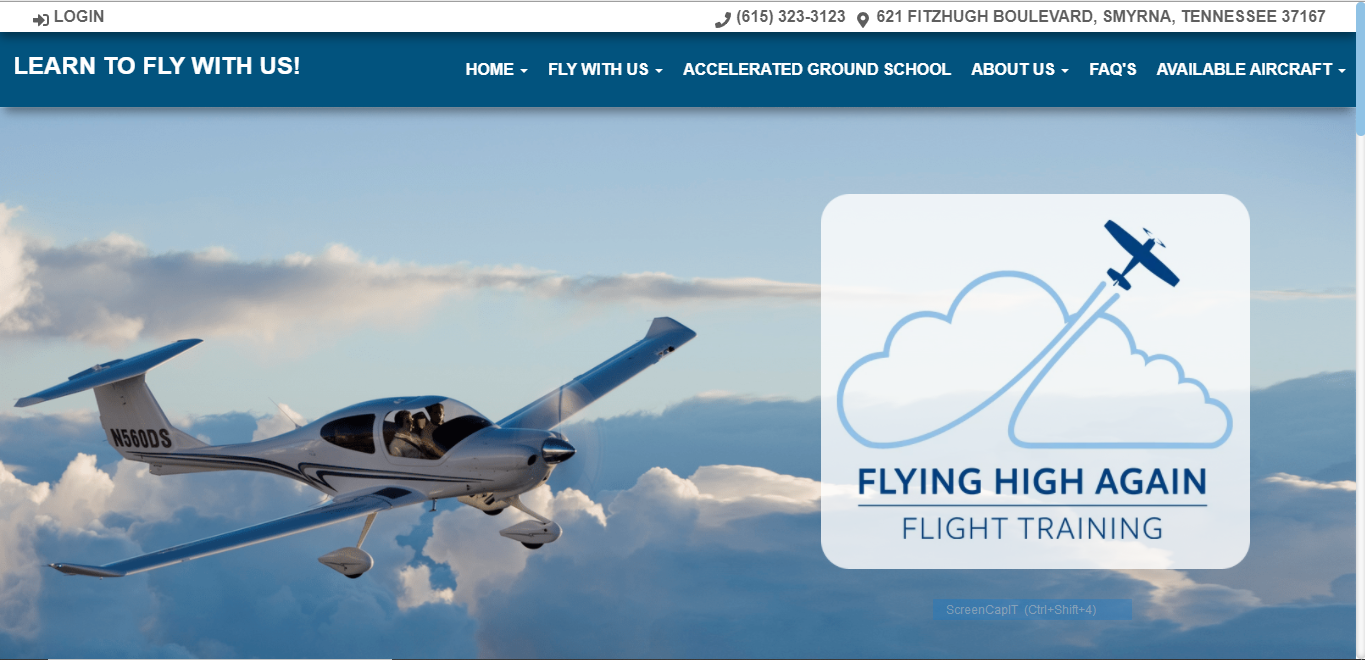 This article was written to help you make a more informed decision. I'll start with a caveat – I DO have a vested interest in convincing you that a custom website is an ideal solution. But allow me to explain. In the past, Apogee helped businesses with their Wordpress sites as one of our hourly services. However, we found it was more time-efficient and cost-effective to just build a new website for these brands than muddle through the complexities of WordPress code and plugins.
And since many Wordpress plugins are open source, we were uncomfortable with the many vulnerabilities in the software, and did not like putting our name on the projects since we knew security risks for our Wordpress clients were high.
I'll mainly use Wordpress as an example in this article, since it is the most popular CMS website builder, but many of the ideas apply to all DIY website builders.
Question 2: How much time do you have?
The second consideration for DIY vs professional web design: Do you want to take the time to do it yourself?
I enjoyed building out my website during my free time. Like writing, it was kind of a fun hobby. However, I built it and left it. I log in once in a while to check it, but not enough to keep the plug ins I used from breaking as browsers updated, and it often included outdated content.
If time is one resource you're limited on, having a team that will create and offer continued in-person support like we offer our clients may be a better option for your business.
If your website is a central part of your digital strategy, it is probably going to require a considerable amount of time to manage.
Of all the CMS website builders I've used over the years, I found Wordpress to be one of the more complicated DIY website builders.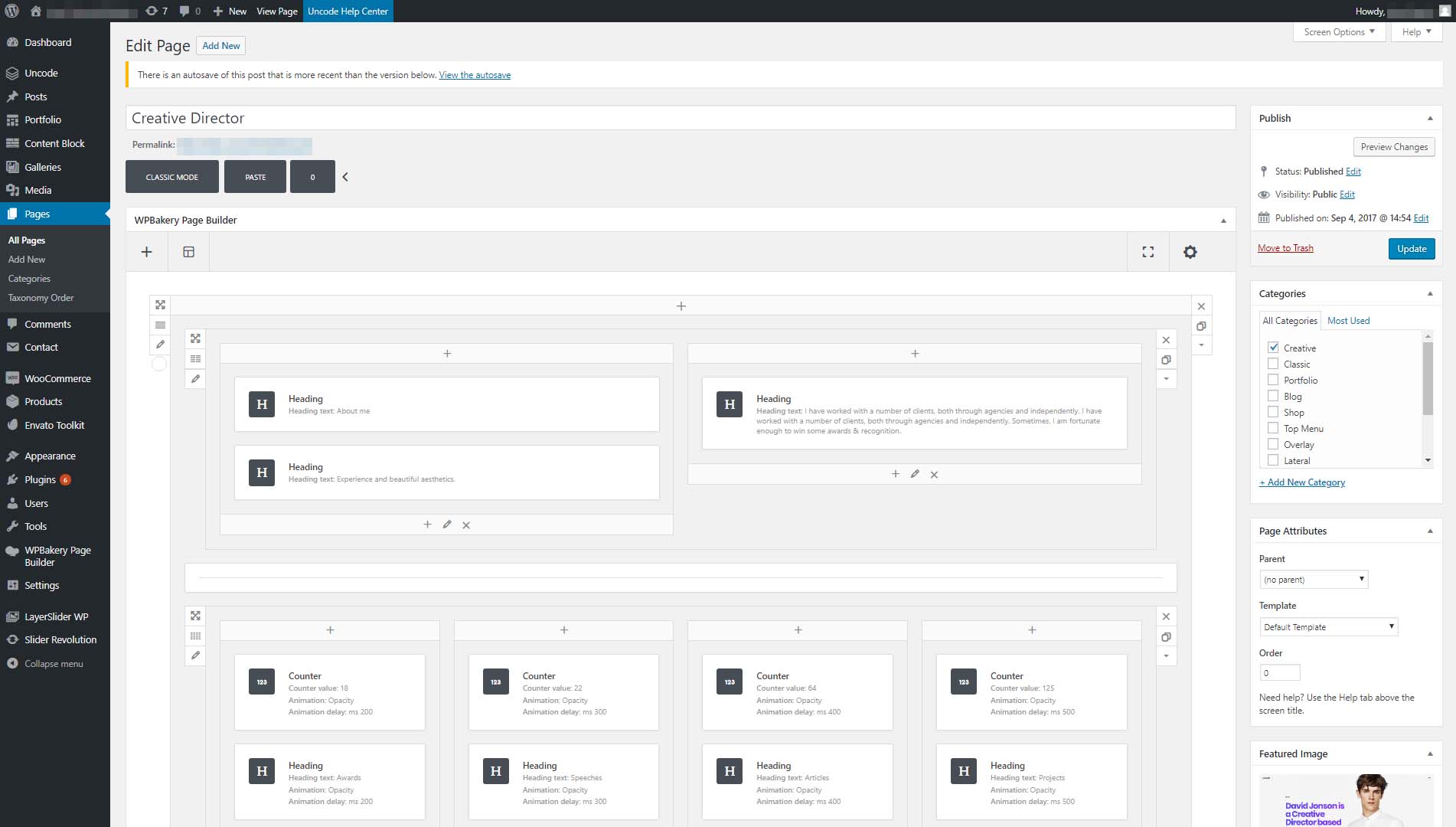 There are many resources available to people who want to build a Wordpress site to help you learn the software and many plugins that are possible. Here is an example of a pop up on a website I came across recently promoting that very thing: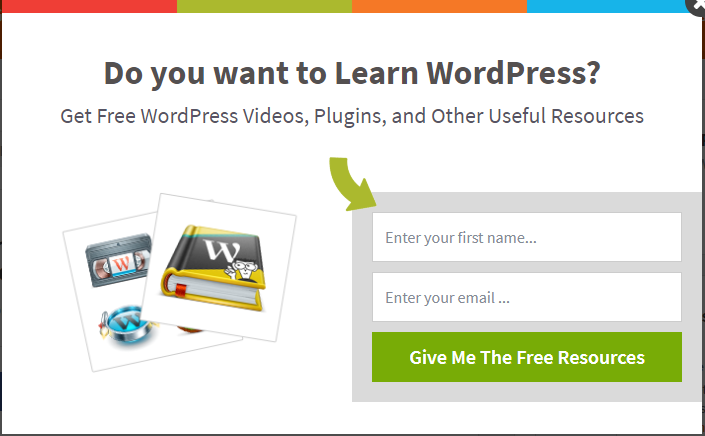 But learning how to use Wordpress properly takes time, just like building the website itself can take weeks,
according to some estimates
.
You'll need to consider conversion optimization best practices, navigation, mobile and responsive design, find relevant plugins and determine how to use them, as well as familiarize yourself with current design trends.
Personally, I enjoy fiddling around with website builders and trying different things. However, it can become stressful when I can't get it to look or perform the way I want, and I have to spend too much time researching each issue and making necessary adjustments.
We will often get businesses reaching out to us to help manage or update their Wordpress site since it can become challenging, plugins break, and is a bigger time commitment than they originally anticipated.
One of the biggest perks of using a product like our MarketingWebsite is the ability to get support from a personal web manager, or account manager, to help you keep your website updated and running smoothly.
If you're managing a Wordpress site and run into an issue, you'll need to research and resolve it yourself using forums or help materials available online. Failing that, you'll have to reach out to a Wordpress developer for help, which will then add to the expense of the website.
There are many web developers dedicated solely to working on Wordpress sites. Although,
according to one professional
that used to be a Wordpress Developer, use WordPress Developers with caution.
"Wordpress people love code and researching and all the crazy things you can do with a website. The problem is that you run a business, not a technology experiment. WordPress Developers will make your project too complicated, take too long, and cost too much money."
And now that it's been mentioned, let's talk about the cost.
Question 3: Is it really cheaper to do it yourself?
While having a website designed professionally isn't going to be your cheapest option, it also doesn't have be cost-prohibitive.
And it does have some benefits. We offer a basic upfront installation fee that covers the custom design and set up of your site, and then a monthly hosting and maintenance fee for our website products. You can choose the pricing model that fits the needs of your business.
While DIY basic websites have little if no charge for the most basic of their sites, their "upgrades" add up quickly if you want any real digital marketing features. Below you can see the example of one popular plugin pricing model.
For example, to have my own domain, rather than using the free domain with the website builder's URL, I pay GoDaddy for the domain, and an upgrade fee to use the basic package that allows me to install my own URL.
I manage all this myself, including the installation (which isn't terribly difficult, just more time). I also need to pay more if I want email addresses for my domain. All this adds up quickly. If I want things like email integration, full website analytics, access to the full CRM, and so on, these features all cost more. I also have to pay for an email service (these features all come included with Apogee's website software for the one time fee.)
If you're getting a custom website created by a company like ours, you typically pay an up-front fee to secure the time of the designers, account manager, project manager, and necessary developers. This is a one-time fee and covers everything you're going to need.
When building your own site, you can often get started for free using a free trial, or the basic package. However, if you want to add any features like your own domain, widgets, contact forms, etc, the price goes up exponentially.
A
Wordpress site can cost
anywhere from $100 to $3,000, even as high as $30,000, depending on the type of site you build.
CMS website builders often use an "a la carte" type of feature set, meaning you pick the features you want and pay for each of them. Using a contact form and storing contacts, connecting your own domain, integrating email, analytics, social media widgets… All these features have an individual price that can add up quickly.
The benefit of a custom website is that you pay one flat rate for everything. You get custom designs, a complete CRM with event calendar and advanced sorting, analytics, content marketing features, multiple-level user management, fully integrated email and marketing automation, and access to a personal account manager to help with anything you need.
Question 4: What about Technical details?
When it comes to meta data, optimizing for load speed, integrations with payment processing or adding code for add ons like Google analytics or Ads, it helps to have a professional.
I did learn how to add Google analytics to my personal website. And they had a section to insert common meta tags. But other plugins caused me no end of headaches, and most of them I gave up on. When it comes to mobile usability and load speed, I had very little control over how it looked on a mobile device or how quickly the site loads.
Most website builders do seem to offer templates that look nice on mobile, but I didn't check them all. And how it looks on mobile also depends on what you add.
It is much easier to depend on a team of professionals to help with these technical things. Load speed for all our products was a major focus this year, since Google puts such a heavy weight on load speed when it comes to ranking sites, not to mention how important it is to users.
Question 5: Is a Wordpress site secure?
This is a big consideration for our company, and one of the reasons we stopped helping businesses with their Wordpress sites. Wordpress sites account for 90% of all hacked websites online.
Data shows
that at least 30,823 out of 42,106 identified WordPress websites have exploitable vulnerabilities. This means that
73.2% of the most popular WordPress installations are vulnerable
.
Security is a priority for our business, because our clients regularly process confidential information. We're so committed to security, we built a secure password-sharing tool to use with our clients that we made available for everyone to use for free, called
1ty.me
.
We are PCI Certified, and comply with all Payment Card Industry standards.
Your business, and your customers, deserve to have their information protected.
We regularly scan for security threats, and keep our clients' software automatically updated to protect their website from these threats. If an issue is detected, we resolve the issue immediately as part of our long-term support.
Question 6: How reliable are CMS website builders like WordPress?
"WordPress is designed so loosely, that all the pieces, plugins and technology fall apart constantly. You'll need to hire a WordPress developer on a roughly 1-3 month basis just to make sure it's all still working properly."
Many of the WordPress plugins, as well as plugins for other CMS website builders, are built by third parties for use on the platform. However, as browsers update regularly, your site and its plugins need to be regularly updated to continue functioning. Many developers of these plugins are not offering regular updates, and this means these features will break over time.
Apogee websites, as part of your service agreement, are regularly updated. And since all features and widgets included are built in-house by our developers, they are updated along with the core software. If anything isn't working the way you think it should, our account manager will work with our team to get it up and running right away, at no additional cost.
Question 7: What about customizations?
With a website builder, you're limited to what templates and features are already built and come included.
For a WordPress site, you do have options to customize your theme, but it can get a little complicated: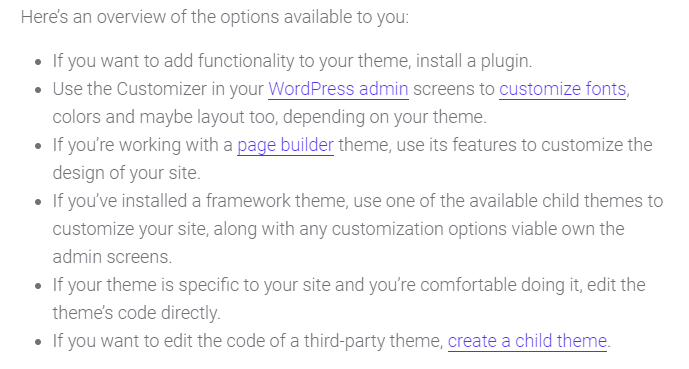 Adding in custom features, apps, or functionalities are even more complicated. As I mentioned from my personal experience, the biggest annoyance in using plug ins was that they were constantly breaking and needing to be re-installed. And, many of them cost to add, or I needed to upgrade my plan to add them.
The benefit of a custom website is that your options aren't limited. The look and feel of the website will be designed around your brand, ensuring it accurately reflects your business and connects with your target audience.
Not only will our team design the website to match the look and feel of your brand, you can also make any changes using the CMS included with your website. It is the best of both worlds – a website built for you, a web manager to help train your team and make changes as requested and monitor security, AND the ability to use a content management system to make your own adjustments.
In addition, you have the choice of adding any special features you need. This gives you more flexibility as your business grows or changes and you might need customizations.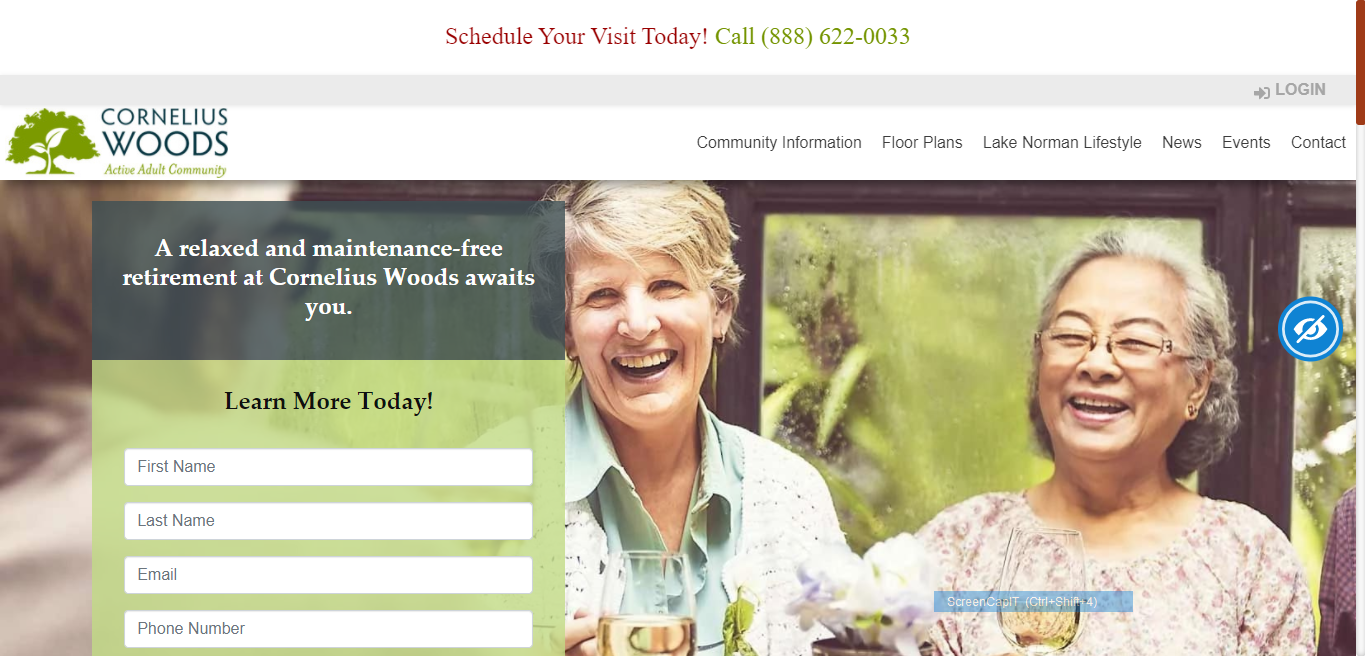 Question 8: How is Customer Support?
This is a very important question. Many of have used online sites for a variety of reasons, and in a digital world, being able to get help from a real human can have huge advantages.
With a professional website, you have access to a personal account manager that will offer training, help you make changes, and just answer any questions or address your concerns.
When using the website builders, my main option was to search for my questions and hope someone else had the same problem before, or submit a support ticket and hope they would get back to me in a timely manner. There are lots of forums for popular website builders like Wordpress, if you're willing to take the time to look for answers.
As you can see from their support page, Wordpress only offers customer support for paying plans.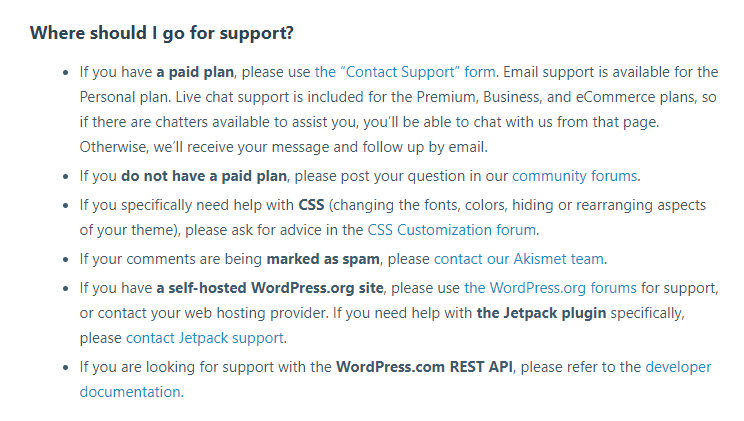 And even for paid plans, support is limited and can get very costly.
This guide
by one company that offers WordPress support explains the difficulty of getting help for your site:
"The WordPress phone number does not work, as it is not answered by any live person and no one is available to take your calls. It is actually of NO use and not helpful for users when you just listen to an IVR, a recorded message will be played to divert you (when you press option 2 for WordPress technical support) back to their online support page, this clearly shows how their support works which is completely online with No Phone Support by a real live person.

"In Personal and Premium plans you only get very basic email and chat support which is not very helpful at all if you are looking to take your blog or website to the next level.

"In Business and eCommerce plans, though you get the option of having one-on-one sessions directly with WordPress experts BUT (a bigger one) there are only 2 free sessions available, further if you need more support and need to know more about how everything works on your website then you need to purchase additional sessions which will cost you $99 for 45 minutes of concierge support session."
That kind of support is available at no charge as part of our monthly service charge for all of our clients.
We don't expect you to use forums or watch videos online to learn how to use your website or help fix issues. Our team is a partner in your website success. We are only a phone call, email, or Skype message away for training questions, website changes, or security concerns.
We manage the technical issues so you can focus on what you want to be doing – building your business and connecting with your customers.
Summary
A DIY website builder (like WordPress) is great for someone who is knowledgeable and interested in setting up and managing their own website, and willing to put in the time. It can be an affordable option if you're looking for a basic website to represent your business online.
A professional solution is better for business owners that don't have a lot of extra time or don't want to learn how to set up and manage a website. A professional website can also improve search rankings and generate more traffic for a business, but can come with a higher upfront investment.
A professionally designed website like
MarketingWebsite
can also include custom features, and more customer support options. If you are serious about building a successful digital marketing strategy, a professional, secure, full-featured website is your best option.
Get a Free Website Analysis