We are excited to announce our latest service, SocialSEO!
It is no longer enough to have a great website, or even to optimize that website with traditional Search Engine Optimization. New search algorithms and heavy competition require regular SEO updating and integrating social media to your website optimization efforts.
Successful websites need to find users. Don't wait for them to find you. Be proactive about gaining a larger audience or you will lose them to your competition. Our new SocialSEO package combines traditional SEO practices with the latest in social media to optimize websites for search traffic. We first make sure the website is optimized, and then we create a web presence that links back to the site.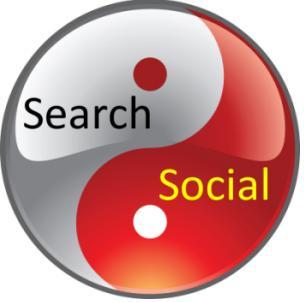 Our package includes:
Website analysis: We first need to determine the strengths and weaknesses of your website to find out what needs to be done. We analyze design and content to make sure its optimized for conversions and an good user interface, and overall SEO, including loading time and links.
Keyword research: We will help find the best keywords for your site, based on your business and target audience. We also consider what terms are being searched the most often, and how high the competition is for terms.
Directory listings: Directory listings make you more available to potential customers, and also provide link backs to build your SEO ranking. We identify the best directories for your area and industry and create the necessary profiles.
Media sources: Traditional media sources, such as local journals, industry newswires, and magazines are still valuable for distributing information. We help you submit press about your business. This helps to build trust in your business while creating more valuable links to your site.
Social Bookmarking: By bookmarking your content, we are creating more links (which are the currency of SEO) to your site. It also makes you more accessible to consumers!
META Tags: This traditional SEO technique is still important. While search engines try to downplay the value of these site tags, they are still being used to rank your site and help people find you. We optimize these to get you the best results.
Press Releases: While these may be less important than they were ten years ago, press release distribution is still an important way to get information about your company to the public. They are also an important source of link backs to your site.
Blog post: Blogging might be so 2008, but it really works. Provide valuable, fresh content and you will keep bring visitors back to your site. We get you set up and started on regular blogging.
Website content: Web content is a mix of science and art. The content needs to be optimized for search engines while also being optimized for the site visitor. Placement of content, headings, and eye tracking studies all play an important part in how we create content.
Social Media: The pièce de résistance. Social media is what makes a website into a web PRESENCE. It lets you, as a business, reach out and interact with potential web consumers. It also makes SEO sense. Google+, and now Facebook linked pages on Bing, are ranking at the top of searches for personal results, so having a profile is crucial to ranking. We will make sure you have a presence on the social networks that matter to your business.
Sound good to you? What are you waiting for?! Contact us to get started today.
Be the first lucky client to purchase a Social SEO package in March and get one month FREE!